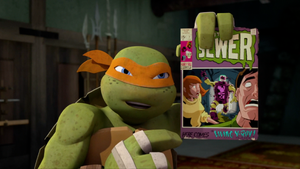 From the Sewer is a horror comic that lies around the Turtles' sewer lair. It is sold by the Hard Sell Comics Group.[1] The issue the Turtles own features a monster called the Living X-Ray on the front.
Appearances
Total appearances: 7.
Notes/trivia
The cover has characters resembling April O'Neil and 1980s Template:Mutagen Man.
Hard Sell Comics Group is a parody of Marvel Comics Group.
In the opening them song from the first four seasons (except for the space arc), April is lounging with this in the lair.
References
Ad blocker interference detected!
Wikia is a free-to-use site that makes money from advertising. We have a modified experience for viewers using ad blockers

Wikia is not accessible if you've made further modifications. Remove the custom ad blocker rule(s) and the page will load as expected.